Happiness Habits – Day 26: Treat Yourself And Spend Some "Me" Time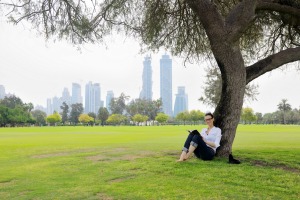 You and I lead busy lives and have all sorts of obligations as parents, professionals, and friends. It's easy to lose yourself in everything that has to be done in any given week. While it's great to give and spend lots of time with loved ones, there is a time and place when you should slow down and get a little selfish.
How Do You Spell It?
Sometimes you need to treat yourself and spend a little "me" time. Don't feel guilty about it. In the end, it will make you a better parent, a better colleague, and a better friend. Just like an electric car, you may have a long range, but at some point you need to recharge. You need to do something just for yourself on a regular basis. The good news: it doesn't have to be complicated.
R-E-S-P-E-C-T (Yourself)
Now that you have permission, your first task is to find out what it is you want to do for yourself, something that you enjoy. Maybe it's carving out a hour or so reading a good book or watching your favorite TV show. Maybe it's getting back into a hobby you used to enjoy. Maybe it's taking a nap. Maybe it's a simple as having 10 minutes to sit by yourself and think, or thumb through a magazine.
It doesn't have to be a lot of time and it doesn't have to involve anything complicated. Sure, a trip to the beach by yourself for a week would be great, but if that's not an option, curling up on the couch with a nice cup of tea and a good book or movie will do. Give yourself permission to just lay down and stare at the ceiling, if that's what would refill your energy "cup."
Let Me Count the Ways
Treating yourself to a new haircut, a nice outfit, a new gadget, or something that will help you enjoy your hobby more is another great option (do make sure it's something that you will use, otherwise it'll end up as clutter and cause more stress!). Or keep it super simple, and pick up a favorite treat that you don't have to share while you're out doing the grocery shopping.
The point I'm trying to make is that it's ok to treat yourself and do something for the sole purpose of making you happy. While a piece of fancy chocolate may not seem like that big of a deal in the grand scheme of things, treating yourself well, and caring for yourself can have a huge impact on the rest of your day and how you treat those around you. Give it a try. Do something nice for yourself and watch your happiness levels go up.