Testimonials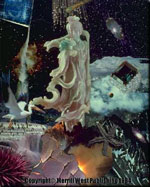 What my clients say…

If you have the time, please go to Sue's playdate for Lenormand, it is such a help to have her help in fine tuning a card reading. Her style of teaching is very direct and informative, she knows how to teach at every knowledge level.
We talked together as a group, each of us received her attention, her detailed knowledge was amazing.
I hope she has many more such classes in the future.
I highly recommend Sue Wilhite's Lenormand workshop! It was crammed with information and I felt that I really dived into working with the cards. Her speaking style is clear and her manner very supportive. I look forward to more - maybe some Advanced workshops?
I'd never used Lenormand cards before this workshop with Sue. I was amazed how quickly and easily one can learn to use them. Having an experienced, insightful teacher like Sue made all the difference. Not only did we get a lesson in Lenormand cards, most of us got little life coaching advice as well. I can say that I will always try to attend any class Sue is teaching. She is knowledgeable, intuitive and most importantly she is an incredible teacher.
If she's teaching a class, GO!
I attended Sue's goal-setting and block-clearing workshop at East West Bookstore. Wonderfully productive! Sue is not only a moving inspirational speaker, but has a practical, step-by-step process that successfully cleared a block I have had for over thirty years. Thank you, Sue!
In my 20+ years of working with Tarot and Divination cards, never have I gained so much understanding as I did during a two hour class on the Lenormand cards with Sue. Her explanations of the process were very helpful and easy to apply. We really had a wonderful time with Sue and have been inspired to find more information and delve deeper into the world of Lenormand. Thank you Sue for your class in Denver at the Shining Lotus Bookstore.
---
Or, you can call (540) 402-0043 Ext 1145 to leave an audio testimonial!
---