Testimonials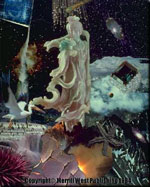 What my clients say…

There are two types of coaches. The first will transport you, with a team of horses, over rocky landscapes to your destination of choice. The second will offer insights and guidance to help you overcome the obstacles to reaching your goal on your own two feet. Sue Wilhite is both types. With her "team" of intuition, wisdom, experience, and Tarot tools, Sue will gently—but with enough oomph to push you out of your rut and over those occasional roadblocks—set you on your path to achieving whatever your heart desires. And if you don't know what that desire is, Sue will offer the steps you need to figure it out.
Thank you so much for the profound session yesterday. I am very grateful for the safe, healing space you provided, revealing and validating what no other healer ever has.
I can't begin to express the blessing you bestowed upon me, in both "seeing" and hearing the enduring lifetime of pain, a pain NO ONE could ever relate to, no less understand, which resulted in much emotional isolation.
Last night I experienced a state of giddiness...at times uncontrollable laughter, which both my husband and I enjoyed sharing. I am figuring it was part of the releasing process.
Today I felt much lighter and even more present than I have been previously.
Thank you, Thank you, Thank you!
I'm grateful to Sue for her profound understanding, kindness, intuition, and healing skills. The results of a session with Sue to heal a problem I've suffered from for over twenty years were miraculous!
Sue just so happen to be in my work place offering a free in person session with her tuning forks and it was an automatic Zen alignment that I felt instantly. I felt at peace and just there are no words just Automatic Zen Moment.
When I used the Sweet Sound Of Sleep recording I was able to have the best the night sleep since I had the worst head cold for 2 days. I slept like a baby and it was even harder with my 4 year old son to try and get to sleep those 2 nights.
---
Or, you can call (540) 402-0043 Ext 1145 to leave an audio testimonial!
---