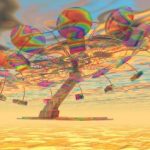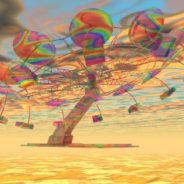 I had the idea for this blog post early in the morning. It was inspired by Rumi's poem "The Guest House," which I'll share in a little bit.
I've got a lot of emotions swirling around, and some of them have been around for weeks. Many of you probably have been dealing with similar emotions around the events of the world, because they all impact our need for feeling safe: hurricanes destroying entire cities and countries; a lone gunman coldly deciding to kill a bunch of people he didn't know and had no connection with either emotionally or ideologically; fires taking out tens of thousands of acres worth of homes and businesses and livelihoods; world "leaders" threatening each other instead of taking care of their people.
I can't think of any other time in history when so many feel so unsafe.
And yet, here I am: safe. I have a house, I have good food, clean water, my books and other possessions around me. I'm excited about an upcoming business launch that's not only going to be life-changing for me, but allow me to change lives for the better world-wide. I have a wonderful relationship not just with my spouse, but with my in-laws (yes, really!) I'm so happy and grateful for all of this.
And yet:
I live in an area that's still under high alert for fire danger right now. I know people whose houses have burned to the ground. We just went to a summer party in one of them. People are still displaced because the fire is so unpredictable. I've eaten in restaurants that are rubble now. I've been to shops that don't have anything left.
The day before yesterday, when the fires were first raging across the countryside, as close as two miles from my house, a news channel interviewed a man whose house was miraculously still standing in a neighborhood of ashes. He said something like "I'm so relieved that I still have my house. But how can I be happy when my neighbors" – and he pointed across the street – "have lost everything?"
I was wondering the same thing. The picture I've added to this post reflects my feelings perfectly: swirling, unsettled, brightly colored, no one place to rest the eye or heart.
And Rumi has the answer:
The Guest House by Rumi (translated by Coleman Barks; shared here for educational purposes only)

This being human is a guest house.
Every morning a new arrival.

A joy, a depression, a meanness,
some momentary awareness comes
As an unexpected visitor.

Welcome and entertain them all!
Even if they're a crowd of sorrows,
who violently sweep your house
empty of its furniture,
still treat each guest honorably.
He may be clearing you out
for some new delight.

The dark thought, the shame, the malice,
meet them at the door laughing,
and invite them in.

Be grateful for whoever comes,
because each has been sent
as a guide from beyond.