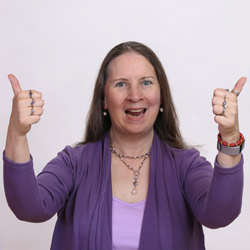 Sue Wilhite specializes in getting her clients unstuck and encouraging them to fulfill their own destinies. She's a best-selling author, Law of Attraction coach, sound healer, and Master Tarot consultant.
She spent over a decade of her early career in various IT departments doing programming and database design in the Silicon Valley, resulting in a healing crisis in the form of an ulcer. A friend invited her to a hypnotherapy demonstration, and the hypnotherapist helped her ulcer vanish. Sue decided it was time to catch up and develop her right brain by going back to her early fascination with alternate realities.

She became a Reiki Master, and a Certified Hypnotherapist, and was qualified as a Master Tarot Consultant in 2007 while continuing her study of Tarot and other divination techniques. After working for and owning businesses large and small, including an independent bookstore, Sue found that her biggest passion is helping entrepreneurs get over their money blocks so they can have a thriving business, and leading to her nickname as the "Profit Attraction Master." 
No stranger to either heartbreak or happiness, she also loves helping people navigate the sometimes complicated waters of relationships. Since 2014, her favorite technique helps to remove emotional residue from her clients' minds and bodies, using specially designed tuning forks in conjunction with Emotional Freedom Technique (EFT or tapping).